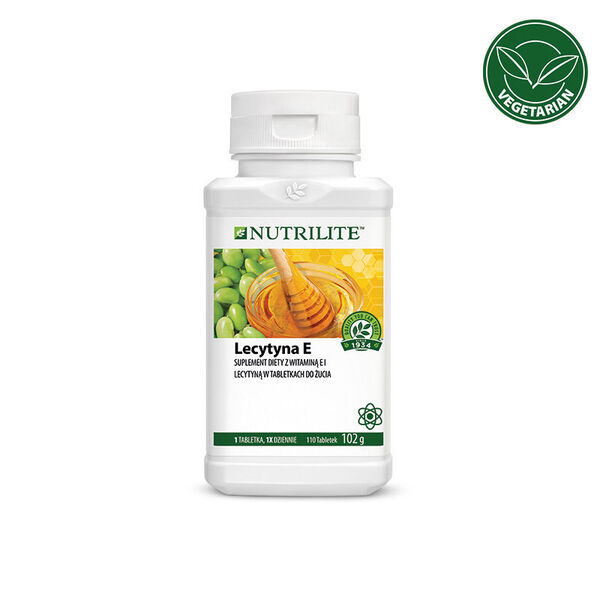 Nutrilite Lecithin E is a food supplement with vitamin E and lecithin. This product is an excellent combination of vitamin E (of naturally derived origin) and lecithin. These pleasant-tasting chewable tablets are sweetened with honey and flavoured with carob.
Vitamin E is an antioxidant which contributes to the protection of cells from oxidative stress, while lecithin is a naturally derived emulsifier of fatty substances.
Suitable for vegetarians.
Contains natural lecithin from soybeans, and vitamin E from vegetable oil
Vitamin E contributes to the protection of cells from oxidative stress
Provides antioxidant protection from vitamin E (a fat-soluble vitamin)
Chewable, appropriate for both children and adults who have difficulty swallowing tablets
Sweetened and flavoured with honey and carob
No artificial sweeteners, colours, flavours or preservatives added
For detailed information about this product please refer to the local language version of the page
Those who do not regularly eat enough (or who do not have the time nor the appetite to eat) foods containing vitamin E, for example, vegetable oils, nuts, seeds, wheat germ and soybeans
Those who are interested in increasing their antioxidant protection against free radical damage, for example, people who live stressful lives or who live in areas of high pollution
Anyone who wishes to supplement without artificial flavours, colours or preservatives
Recommended dosage
Chew 1 tablet daily, preferably with a meal
Advisory
Keep out of reach of young children. This product is no substitute for a varied diet. Do not exceed the recommended daily dose. Keep bottle tightly closed. Store in a cool, dry place.
Additionally a varied and balanced diet and a healthy lifestyle are of general importance.